St. Mark's Pre-school offers a developmentally appropriate curriculum, based on the 'Early Years Foundation stage' (EYFS). The curriculum, which starts at birth, carries on through play group, right up to the end of reception class. This type of learning builds on children's play activities through observations and planning.
This promotes learning in the six identified areas, as follows:-
Personal, Social and Emotional Development:

Developing independence, confidence and the ability to share and take turns.

 

Communication and Language
Literacy:
Communicating through books, stories, rhymes, role play and conversation.
Mathematics:
Learning through practical Math concepts such as numbers, counting, shape, size, space and measure.
Physical Development

Improving strength, skill and control using co-ordination and manipulative movement

Understanding the World
Learning about the world they live in through exploration, experimentation, observation, decision making and discussion.
Expressive arts and Design
Exploring ways to represent feelings and experiences through art, music, dance, role play and imaginative play.
Key person
To help keep track of each child's progress and development we assign a 'Key person'.

The key person will be responsible for helping the children and families in their group feel confident and comfortable. They will develop a good knowledge of the children in their care and create a rapor so that they can respond sensitively to their feelings, ideas and behaviour. Each child will be cared for in an appropriate way to meet their needs and that of their families.

During your child's time with us their key person will build up a "Learning Diary" to record the interesting fun and amazing achievements of each child. What they will do and say during their time with us in foundation stage 1. These records will form the basis for the planning of appropriate experiences for the child and to build on stages of learning and are available for you to see and add to whenever you would like.

Each child has a 'Wow Card'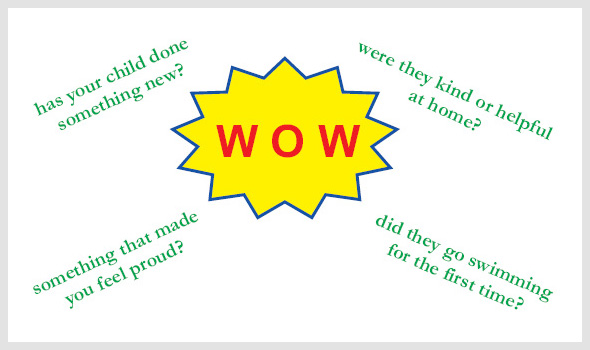 This is a way in which you, as a parent, can contribute to your child's learning diary. These are kept in a box on the parent information table.